www.cycleinstructor.co.uk
"Learning how to cycle properly makes cycling much more enjoyable and safer for everyone - children, adults and other road users" CTC the UK's national cyclists' organisation
What clients have said:
Beginner Biking courses
At Royston Villages CC (Barkway School):

Wonderful course! We were really amazed at how quickly they picked up the skills needed to ride a bike. Definitely recommend it.
A great Session. This is the second child that's done it and both were cycling within 10 minutes. It's an opportunity to have time and space to do it properly.
Really great session! My daughter made great progress and really enjoyed it. It was really helpful for parents to learn how to teach their children.
An Excellent course, making something daunting easier to try. Brilliant value for money. Thank you.
A really useful session. I now have all the techniques to help my daughter learn to ride her bike. My daughter even managed unaided all in less than an hour!
Our son was cycling by the end of the session! Good one on one support. Thanks
It was fantastic! My children loved it and I got lots of top tips. I would come again with my younger child if you have it again.
Overall very good, I feel equipped to teach my son to ride - he was riding independently b the end of the session. I did not have huge confidence in the beginning when he said he could not remember what to do.

At Howe Dell Children's Centre:

View their PDF file

At Beane Valley Children's Centre:

Was able to start by himself, Starting to turn, could stop by himself. Dad needs to be fitter!
He arrived very aprehensive and didn't want to come but developed confidence quickly. He progressed well. "It was fun!"

At Great Wood Children's Centre:

The whole course was excellent and instructors extremely helpful. Definately recommend
Definately worth doing. Great for confidence. Adults and children learned the basics together."

At Waterside Children's Centre, WGC:

My son and I really enjoyed this. He is very proud of himself and is confidentially riding his bike to school. Also I don't know how to ride a bike, so this session gave me the confidence and techniques I needed to support my children.

At Barleyfields Children's Centre, Woolmer Green:

The thing I liked most: The ladies that ran the course were very friendly and great at talking to the kids. What have you learned: Thomas gained so much confidence. How has your child benefited: He can now ride and knows how to get off safely. What could be improved: Nothing - it was fantastic.
Individual Training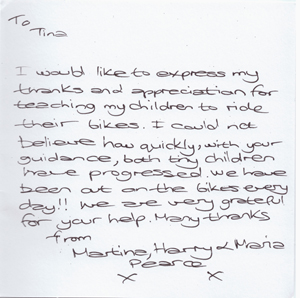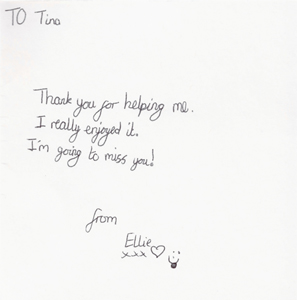 "Hi Tina, Maia's Mum here - she did it!!!!! Now riding up and down with occasional help to steady her for first couple of feet :) No stopping her x"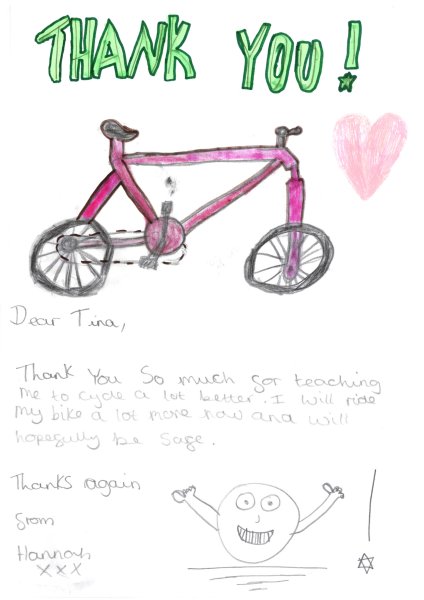 "Thank you so much for your brilliant training with Joseph yesterday. We can't believe how quickly he picked it up!
Here are a couple of pictures, we have an excellent video, but it was too large to e-mail.
These were taken after just 10 minutes outside with his daddy. He doesn't want to stop now he knows how to do it on his own, up and down the driveway lots of times tonight!" Paula.
Thank you so much for teaching Bayleigh and Lola, when I got back home today I took Bayleigh over to the park and she cycled all on her own, away from me right up the path, turned around, set off by herself and came back, the smile on her face was fantastic she got off her bike and ran to me saying MUMMY, I CAN DO IT I CAN DO IT it has made my day, next weekend, Lola !!
Thanks for everything, you have been such a great help.
All the best,
Lorraine Harper."
"Thank you very much for training him and also keeping me informed of his progress. I am impressed that he picked everything you taught him , so well. Thanks for also pointing out that the bike needs the handle bars adjusting, when its self assembly most things have a few teething problems. Thank you again and I will certainly recommend you."
School Courses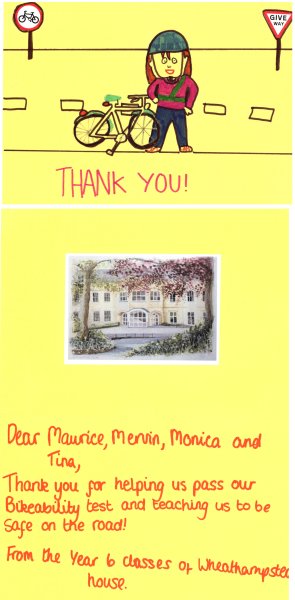 Click on the two cards above to read them.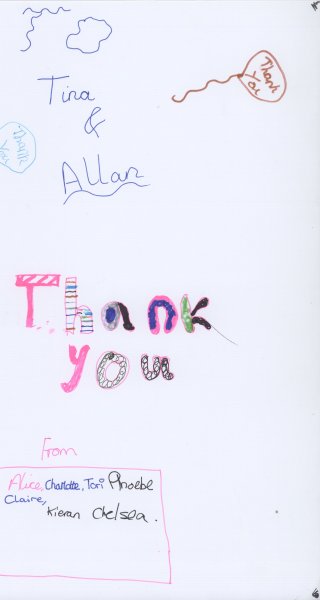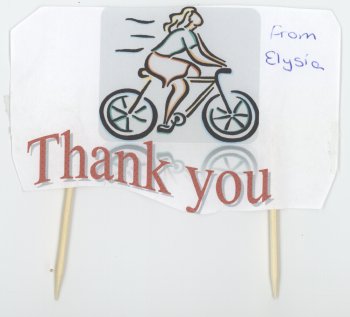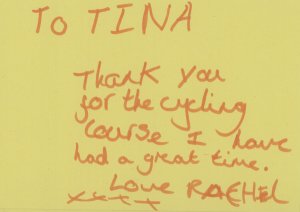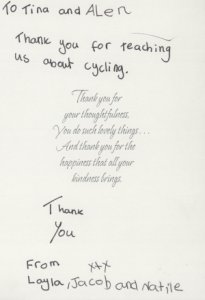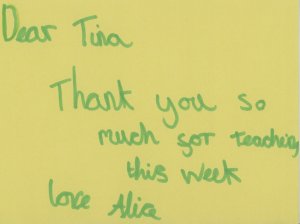 Contact Tina to discuss your requirements or book a course
tina@cycleinstructor.co.uk

@TinaCyclist
www.facebook.com/TinaCyclist/
07775 538830
Please leave a message, answerphone always on, I will get back to you.